Xpress Auto Glass is my go to auto glass replacement company for over 10 years.
They are not only friendly and true glass experts but they offer a lifetime warranty on their workmanship and I can always count on a sense of professionalism that is not available from other companies I have used in the past.
I do not hesitate to give them the highest recommendation.  You will not be disappointed.
William L. Aiton / Atlanta
I have used Xpress Auto Glass for all of our working vehicle glass replacements.
I own  a fleet of working vehicles and down time can hurt our bottom line.
These folks are fast, efficient and top quality all the way around.  I trust them and will use them from now on.
Thank you Tammey, Ken and your courteous staff.
Mary Morrison
Why OEM Equivalent Auto Glass is Your Best Choice
At Xpress Auto Glass, we recommend replacing broken auto glass with only OEM equivalent quality glass. OEM or Original Equipment Manufacturer glass uses the same specifications as what the original vehicle manufacturer calls for in the original design of your car. In other words, it's the same auto glass that comes installed in your vehicle off the assembly line.
OEM equivalent auto glass meets or exceeds Federal Motor Vehicle Safety Standards and since it is built to the exact specifications as the original manufacturer there is no compromise to sustaining the perfect fit or the structural safety of your car as the original manufacturer intended. Using OEM equivalent auto glass is the best solution for replacing broken or damaged car glass.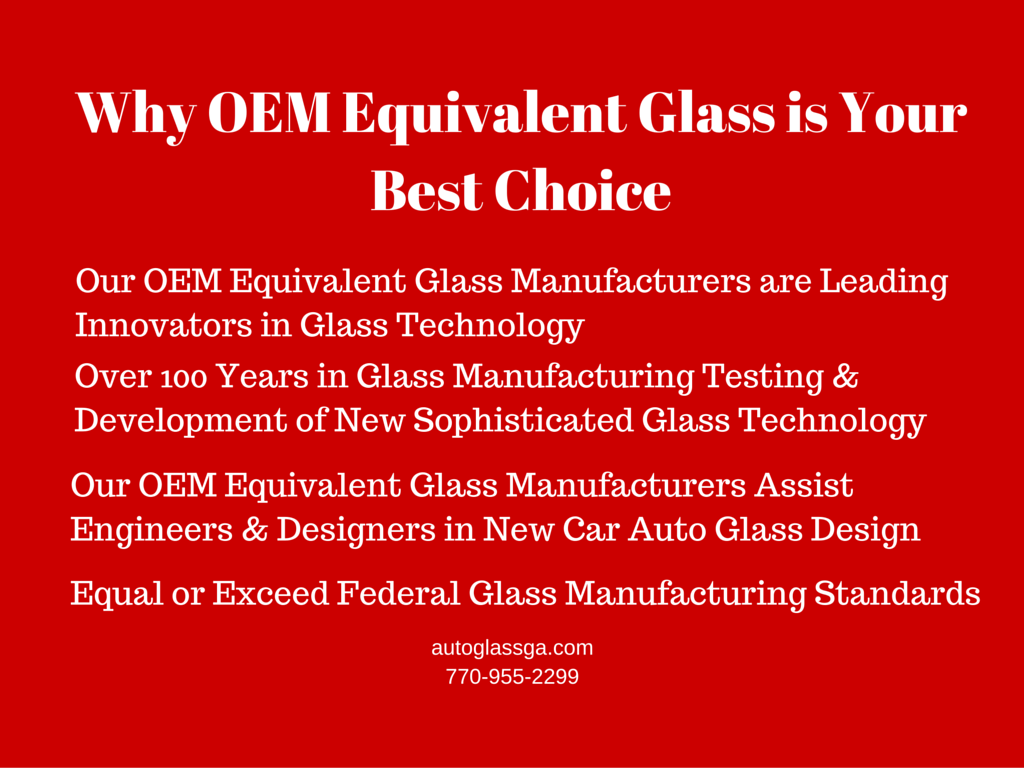 Less expensive glass, or what is commonly known in the industry as "aftermarket glass" is manufactured with less rigid standards and considered a generic fix. While the dimensions may seem to fit your vehicle, the glass itself was not manufactured to meet the specifics of different makes and models. With less rigid standards replacing your auto glass with aftermarket glass is not recommended. Compromising the structural safety and integrity of your vehicle with a generic fix as well as sub-standard glass you may be faced with annoying wind noise, leaks and many other issues.
By only using OEM equivalent glass from the world's leading innovative glass manufacturers Xpress Auto Glass remains true to consumers without compromising quality for the last 30 years.
With advanced glass shaping, styling, improved visibility, safety and aerodynamic designs our OEM equivalent manufacturers work closely with engineers and designers during the developmental stages of car design. Extended windshields either into the roofline (Ceilo design) or wrapping the windshield into the sides of the vehicle (Panoramic design) continue to evolve. As well as innovative methods of tighter specifications of optics, shape, wiper performance, water, sun damage, noise control and OEM precise fitting.
Our OEM auto glass manufacturers have changed the way car designers and manufacturers design and produce new cars. With the development, evaluation and testing for optimal performance new car glass prototypes have become increasingly sophisticated. With over 100 years of glass manufacturing experience new innovations have been developed that allow car manufacturers to adopt these glasses to add auto aesthetics and physical benefits for consumers.
A few of these sophisticated processes include; antenna integration, increased levels of security against theft through lamination processes, thermal control, privacy tinting of glass, heatable glass for de-icing, durability, hydrophobic glazing for visability in rainy weather and other sophisticated glazing processes.
So when you are faced with making a decision on an auto glass replacement company you can rest assured that Xpress Auto Glass remains proud to offer only the best replacement glass available. We do not put your family at risk by using sub standard auto glass replacement, sealants or improperly trained technicians.
By choosing OEM equivalent auto glass you are assured that you are replacing your vehicles protective glass with only the best innovation and technology. Our OEM equivalent auto glass manufacturers are the innovators that assist engineers and designers to manufacture and design new cars. OEM equivalent glass is strictly manufactured to be the same as if your vehicle came straight off the assembly line without compromise.