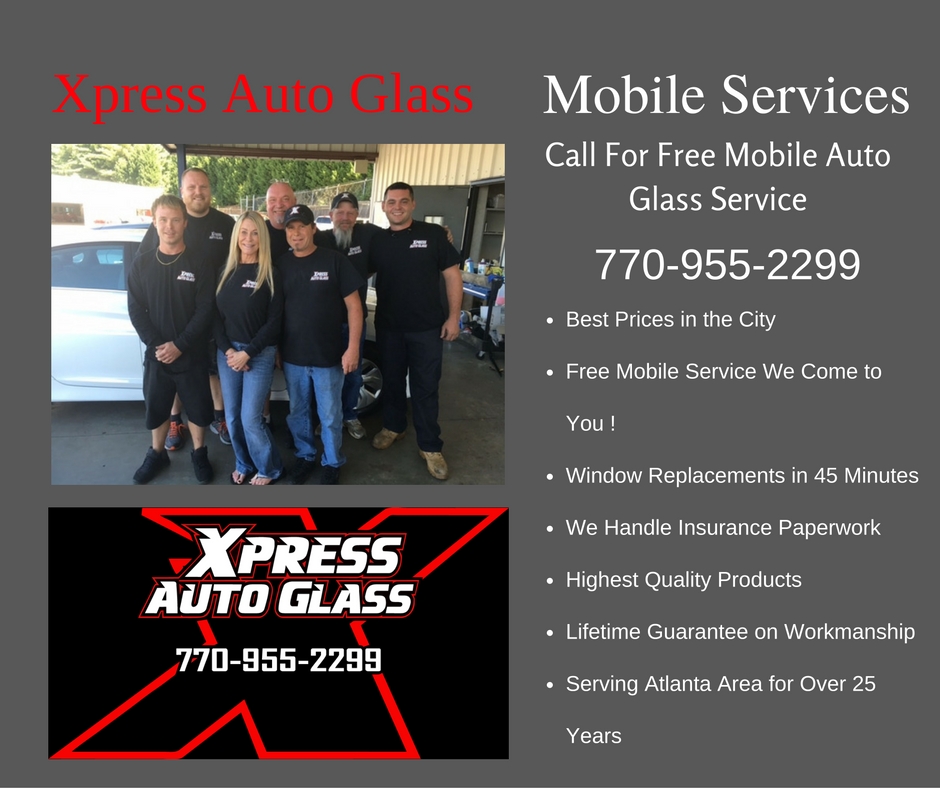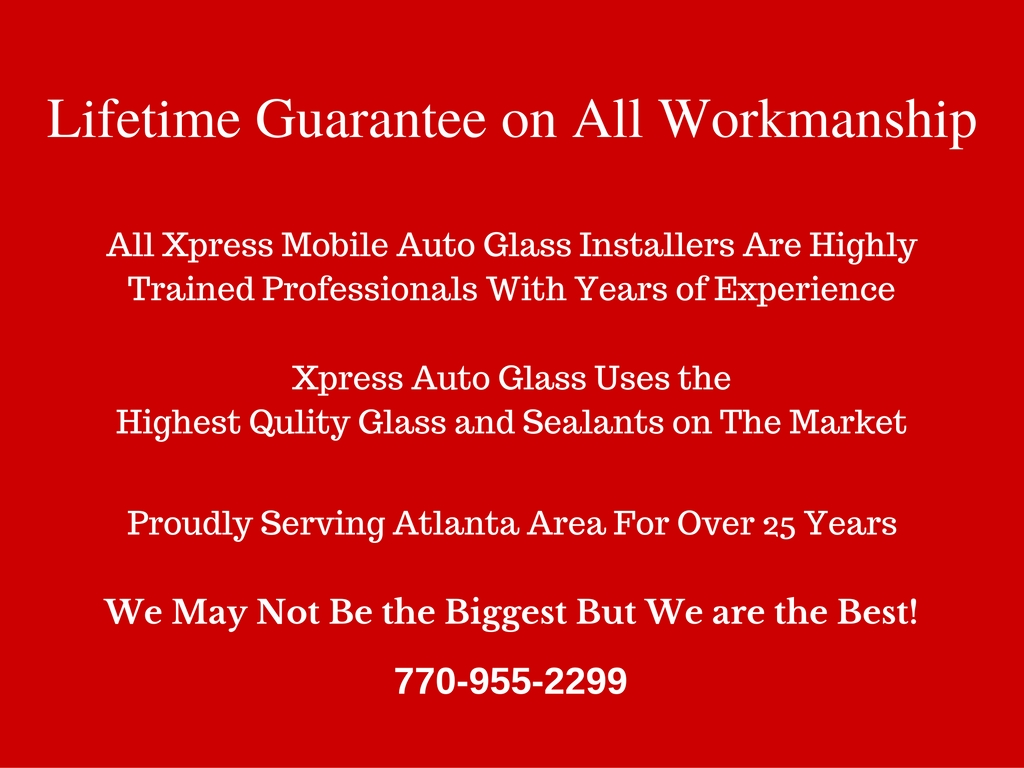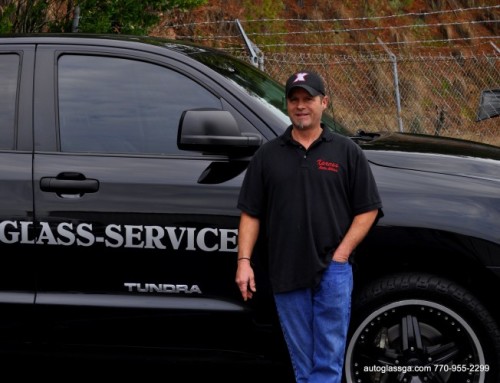 Auto Glass Repair and Auto Glass Replacement Cost
When your auto glass or windshield sustain some type of damage and needs to be replaced or repaired your initial response is what is my auto glass or windshield replacement going to cost me? The good news is most of the time your insurance company will cover the cost, depending on your deductible, the costs are minimal when you consider safety risks.
We take care of your insurance paperwork for you as an added service bonus.
You should not put off replacing your auto glass because of cost for the number one reason which is safety. Knowing that you and your family are safe as well as your vehicle to avoid theft, replacement cost is well worth avoiding potential risks.
At Xpress Auto Glass safety is our main concern. For over 25 years and we still offer the best auto glass replacement pricing in town and our free mobile service comes to you anywhere in Atlanta. We don't add our mobile service, like some of our competitors, into your cost it is actually a free service!
Getting back on the road quickly with the highest safety measures in mind does not have to be a hassle or costly.  Our mobile installers come to you and replace your glass within an hour.  There is a proper drying time for sealants so depending on weather conditions getting back on the road is possible within a few hours.
Windshield Repair and Replacement Costs: Insurance Payment
Most insurance companies cover the full cost of windshield replacement and repairs. To make replacing your windshield simple Atlanta Mobile Auto Glass has worked closely for over 25 years with major insurance companies and we are on their preferred vendor list.
Short list of just a few of the insurance companies we work closely with:
AAA
AIG
Alfa
Alliance
All State
American Family Insurance
Century
Encompass
Erie
Esurance
Farm Bureau
Farmers
Fireman Fund
GE Capital
Geico
Gerber
Hartford
Liberty Mutual
Metlife
Nationwide
Progressive
Safeco
Travelers
USAA
Call Us Today For Your Free Quote
No matter what your situation is when you call Xpress Auto Glass you can rest assured that we will give you an honest quote and a detailed explanation regarding your options within minutes.
770-955-2299

For over 25 years we have been providing fast friendly auto glass replacement and repairs and we back up all our workmanship with a lifetime warranty.
Xpress Auto Glass provides the highest quality workmanship, top Quality Products and Sealants that meet or exceed safety regulations and we are experts in the field.
All our Glass Replacements are OEM equivalent that meet and exceed Federal Motor Vehicle Safety Standards for over 2000 cars, trucks and SUV makes and models.
We also provide sophisticated high performance specialized auto glass that our expert glaziers manufacture for our consumers.
Auto Glass Repair and Replacement Cost should not be a major concern as replacing a windshield or auto glass is most often covered by your insurance carrier. Windshield replacement and auto glass repair or replacement should never be delayed for personal and vehicle safety reasons and above all your piece of mind.
Be safe, we are here to help.  770-955-2299